This article applies to the following CoolMaster products:
CoolMaster
CoolMasterPro 
CoolMasterNet
To change the CoolMaster settings, tap the Gear icon on the upper left-hand side of the Main screen. The screen on the right is displayed.
Select Configuration by tapping the > button.

The following screen is displayed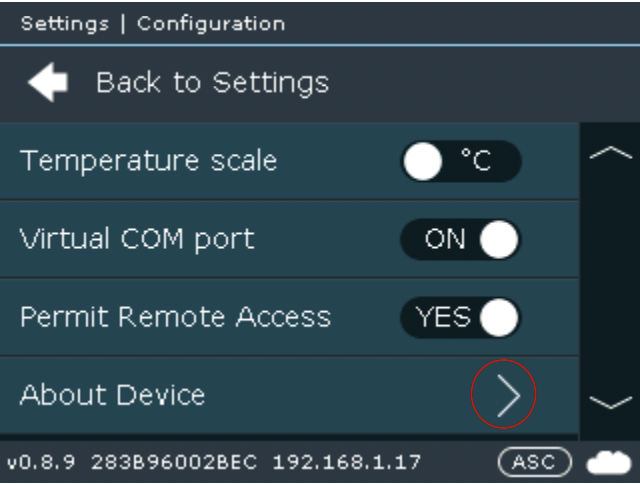 In this screen you can:
Select the desired Temperature scale (°C/°F). This applies only to the way the temperature is displayed on the screen. It does not affect the temperature scale on the HVAC system.
Enable the Virtual Com port to allow connection via mini-USB terminal. Required for local configuration with terminal software tools. Used mainly for support.
Permit Remote Access (enabled by default). Used when the CoolMaster owner wants remote support.
Select About Device by tapping the > button. The following screen is displayed. The screen shows if BACnet IP and ModBus IP are enabled/disabled.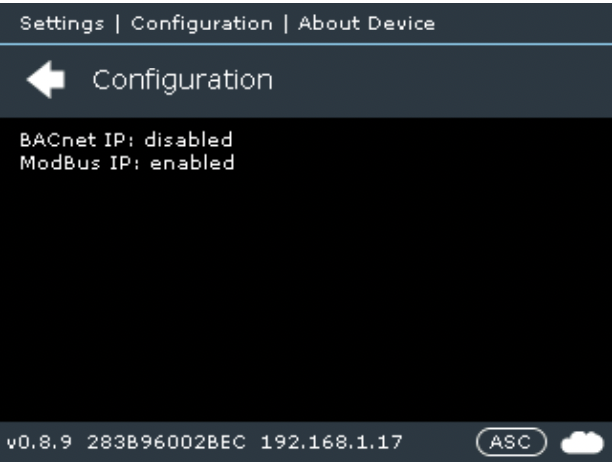 To enable BACnet IP please contact CoolAutomation support